Important Update
Due to ongoing uncertainties, we will not be hosting a full-scale convention in September 2021. As of March, when we are normally booking our venue, equipment and volunteers, there are too many unknowns for us to be ready for a September event. We are watching public health orders carefully, and exploring other alternatives for the Fall. Until then, stay safe and game on!
In the meantime, you should check out some of the content we have been putting up on our Facebook page. If you're not a fan of Facebook, we have made our Volunteer Bios and Games of the Alphabet conent available on the website!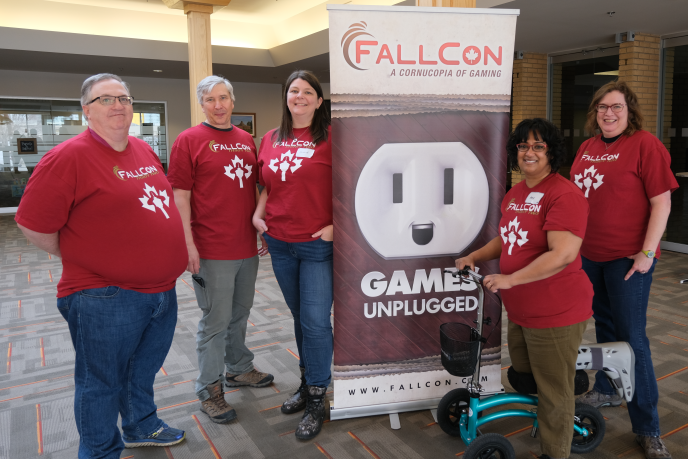 About FallCon
FallCon is an annual three day Board Game and Miniature Convention in Calgary, Alberta, Canada. FallCon is a non-profit organization, run entirely by volunteers, united in their passion for tabletop gaming & miniatures.
Each year we welcome hundreds of attendees to an event featuring a library of over 1000 games, a roster of more than 100 scheduled games, events, panels & tournaments, a live auction of 300 games and a flea market with more than 20 tables.
We invite you to join us for a weekend of learning games and playing favourites alongside family, friends and fellow enthusiasts. New gamers are welcome! Our FallCon Game Hosts are on hand to help select and teach games from our library, and also to host and teach games from scheduled signups. We also help match players with tables seeking more players. Take home favorites purchased from our vendors, the live auction or the flea market. You'll also find our volunteers teaching games throughout the year at scheduled meetups and other local conventions.
While at the convention, we encourage you to take pictures and share your experiences on social media. Be sure to use the hashtag #FallCon33 to let everyone know!
Where:
SAIT – Campus Center 1301 16 Ave NW
Calgary, AB T2M 0L4