Commemorate the Con That Wasn't
We've partnered with Meeples Crossing, a new, local and boardgame-obsessed T-Shirt company, to design and offer 2 exclusive FallCon T-Shirt designs, with proceeds going towards growing the Board Game Library.
But that's not all.
Meeples Crossing will be donating $2 from every sale of their T-Shirts that is purchased along with a FallCon Shirt to FallCon's Board Game Library fund. And Steeped Games (publishers of the Chai board game) have graciously offered some of their merch into the mix.
Our hope is that we can raise enough money that, under the guidance of our fantastic Library Committee, we can keep updating our Game Libary throughout the coming year, with a mix of new titles and secondary market "classics". That would mean selling about 150 FallCon T-Shirts. Can you help us do that?
100% of profits from each sale goes to the FallCon Board Game Library fund:
$2 from each sale, if purchased with a FallCon shirt, goes to the FallCon Board Game Library fund
Preorder your shirts starting today, August 4th:
The preorder period runs until August 24, 2020 at 11:59 pm. The expectation is that T-Shirts will be ready for the formerly FallCon weekend of Sept 25, 2020. However, delays are always possible, especially with Covid-19 in the mix.
Getting the Goods
If you are in the Calgary area, there will be two limited-time local pickup locations, one in the south and one in the north. Local to Calgary delivery and Canada-only shipping will be available and rates are dependent on the amount shipped.
Important Update
With regret, we have to cancel the convention we had planned for September 25-27 at SAIT. We know it is tough news for our Con community. Please stay safe until we can game together again! We look forward to seeing you at the Convention in 2021. Click here for further details.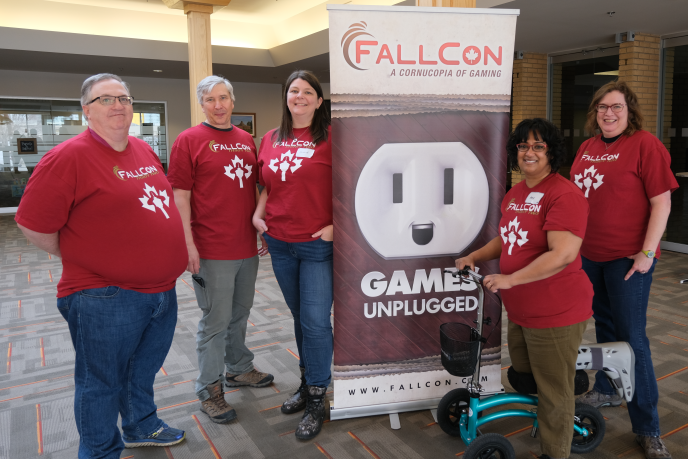 Convention Hours
| Day | Doors Open | Doors Close |
| --- | --- | --- |
| Friday | 5:00 pm | 11:30 pm |
| Saturday | 9:00 am | 11:30 pm |
| Sunday | 9:00 am | 4:00 pm |
Convention Highlights
Open Gaming
Our FallCon Game Hosts are on hand to help select and teach games from the 1,200+ games which are found in the FallCon Library.
Exhibitors and Sponsors
Our fantastic Exhibitors and Sponsors help make the convention possible and have some great things for sale.
Live Auction
Saturday night's Live Auction and presentation of the Canadian Game Design Award is a highlight of our Convention! About 300 games will be available for sale. This is a cash only event.
Flea Market
The Flea Market will be held at 9am on Sunday Morning at the back of the Open Gaming area. This is a cash only event.
About FallCon
FallCon is an annual three day Board Game and Miniature Convention in Calgary, Alberta, Canada. FallCon is a non-profit organization, run entirely by volunteers, united in their passion for tabletop gaming & miniatures.
Each year we welcome hundreds of attendees to an event featuring a library of over 1000 games, a roster of more than 100 scheduled games, events, panels & tournaments, a live auction of 300 games and a flea market with more than 20 tables.
We invite you to join us for a weekend of learning games and playing favourites alongside family, friends and fellow enthusiasts. New gamers are welcome! Our FallCon Game Hosts are on hand to help select and teach games from our library, and also to host and teach games from scheduled signups. We also help match players with tables seeking more players. Take home favorites purchased from our vendors, the live auction or the flea market. You'll also find our volunteers teaching games throughout the year at scheduled meetups and other local conventions.
While at the convention, we encourage you to take pictures and share your experiences on social media. Be sure to use the hashtag #FallCon33 to let everyone know!
Where:
SAIT – Campus Center 1301 16 Ave NW
Calgary, AB T2M 0L4